Mass Effect 3: Operation PATRIOT and the new Argus Assault Rifle
This weekend's (21-23 September) N7 Operation is pretty easy for the Squad Goal, though it requires some coordination with friends.  Click here for full details.
Squad Goal: Extraction on any difficulty with all squad members as the same non-human race. Requires 2 or more players in squad.
Allied Goal: Kill 600,000 Atlas Mechs on any map at any difficulty.
Special Circumstances: Escort Drones travel speed reduced.
Bioware also just released a new assault rifle for the multiplayer:

"The Argus is a high-powered rifle favored by senior C-sec officers. An excellent close-range weapon, its bursts of fire ensure ammunition conservation during lengthy conflicts. Other law-enforcement agencies across the galaxy are adopting the Argus as their standard rifle, as much for its intimidation factor as its suppression power."
Ok, as cool as a new rifle is, it better be damn good if they're nerfing the Piranha next week!  Unfortunately, the Argus is too heavy, has too much recoil, doesn't do enough damage, and has a slow ROF.  It's heavier than the Saber, does the same DPS as the Avenger, and has half the ammo capacity.  In summary, it kinda sucks hard.
Also, this is no substitute for a new DLC … hurry up, Bioware!
And there is also a new infographic on the multiplayer game – haha, Firebase White accounts for almost a third of the games played, ofc: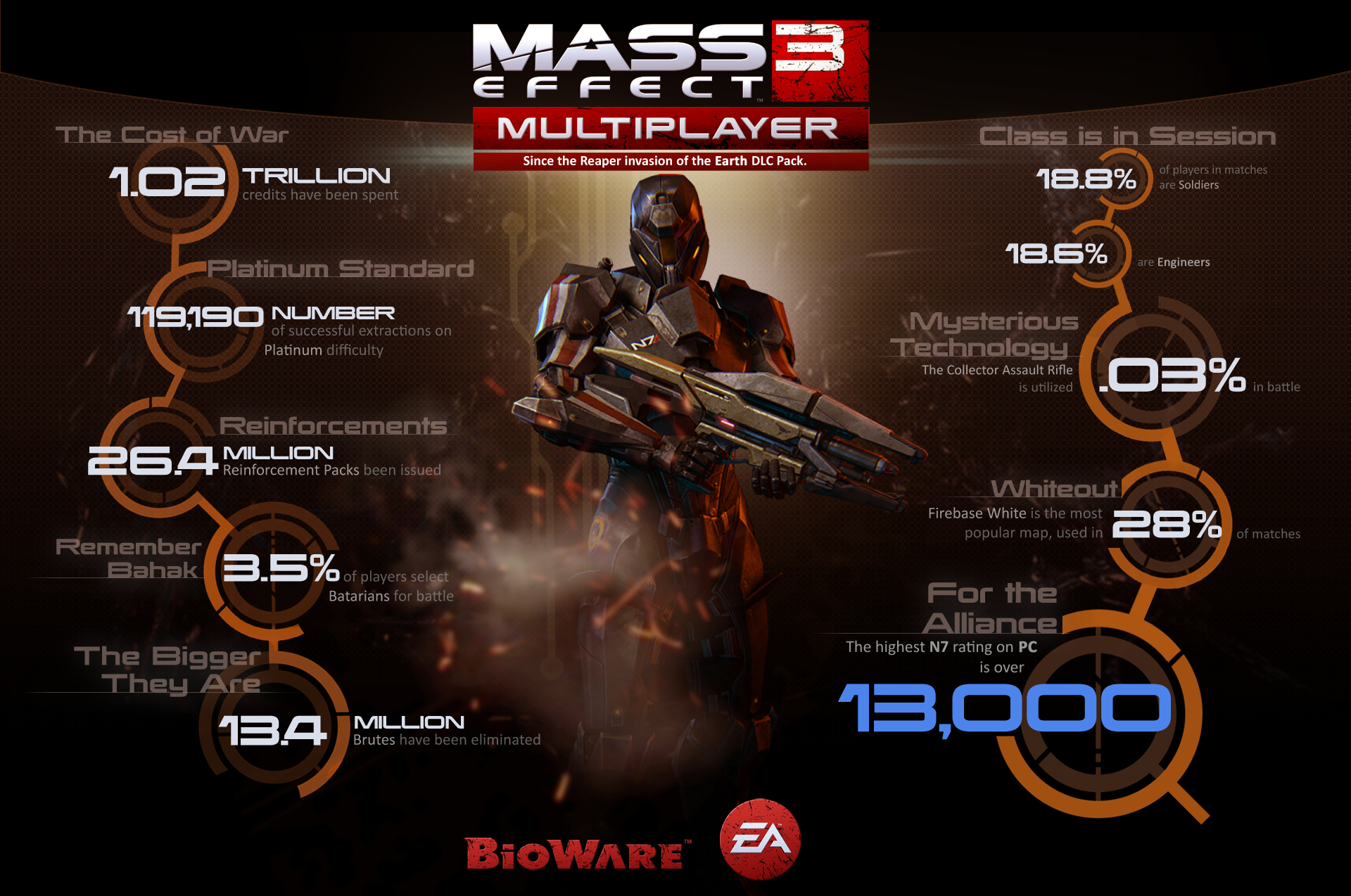 It's funny that the PC's highest N7 rating is only 13,000 – I have at least two Xbox friends who have over 15,000 N7 rank.
Will you be participating in Operation PATRIOT?  Let me know in the comments!